23-08-2018
On 15/08/2018, Tonkin Group became the major shareholder of Sunstar Investment Joint Stock Company (SJF), thereby raising its stake to 3,981,006 shares (equivalent to 5,03% chartered capital of SJF).
According to Tonkin Group, in order to become a pioneer in the value chain supply for the international F&B corporations in the world by 2025, applying the 4.0 technology in the field of agricultural production, Tokin is implementing M&A and cooperating with a number of large local companies to complete the Global supply chain.
Sunstar Investment Joint Stock Company (HOSE: SJF) is a leading company in the field of biotechnology in agricultural production, holding a chain of Japanese organic farming technology, very suitable with the strategy of Tonkin Group.
In addition, SJF owns the largest industrial bamboo plant in Southeast Asia (in Mai Chau, Hoa Binh) and large material areas in the North West of Vietnam. With these advantages, Tonkin Group wishes to officially become a strategic shareholder of SJF, and may negotiate to continue raising Tonkin's stake in SJF.
Tonkin Group Chairman said that SJF's advanced biotechnology platform will increase the value of Tonkin Group's agricultural products to meet the growing demand for clean and organic agricultural products for large international F&B corporations in the world.
Therefore, the two sides are negotiating and agreeing some final provisions so that Tonkin Group can take control of certain SJF in the coming time to accelerate the delivery of high quality products to the market.
Tonkin Group was established in 2002 as one of the largest enterprises in Vietnam in the global supply chain of hi-tech agriculture. Tonkin has developed raw material areas in the Northern provinces and Central Highlands.
The main products of Tonkin Group that are in the supply chain including potatoes, pepper, coffee, ect. Fresh potatoes, processed potatoes are now exclusively supplied directly to the leading companies such as Pepsico of America, Koikeya of Japan, Orion of Korea, Indofood of Indonesia and other partners from Australia, Netherlands, Germany, France, Hungary and Thailand.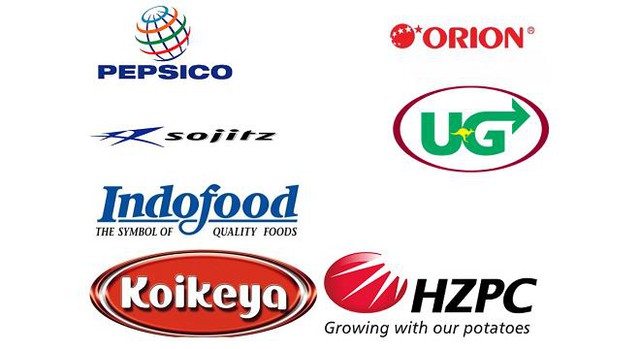 Big corporations in the global supply chain of Tonkin Group.
Anh Duong
Source: Nhịp sống kinh tế
http://cafef.vn/tonkin-group-bat-ngo-tro-thanh-co-dong-lon-cua-sjf-20180823133214251.chn